Imagine having the opportunity to upsell or cross-sell to each customer that enters the drive-thru. By showcasing limited-time offers, high-margin menu items, personalized recommendations, and other attention-drawing details on drive-thru digital menu boards, restaurants can enhance guest experience and increase sales. Managers don't have to worry about reminding drive-thru order takers to upsell consistently, and operators will be excited about the additional revenue.

In 'Increasing Drive-Thru Sales with Digital Menu Boards,' Matthew Johnson, Inside Sales Manager: North America West, highlights specific digital menu board strategies that have lead to positive outcomes. View the video here:
Drive-thru digital menu boards provide many opportunities because they can align with a brand's vision and turn it into a reality. Working with The Howard Company's design team on custom, visually appealing content will lead to a high-quality drive-thru system.
The Howard Company's Drive-Thru Flex Digital Menu Board is an industry-leading outdoor solution that allows businesses across many markets, to incorporate up to three panels with combinations of digital displays and printed graphics. Panels can be adjusted at any time, on-site, while the drive-thru remains open. We encourage you to explore the Drive-Thru Flex Digital Menu Board today!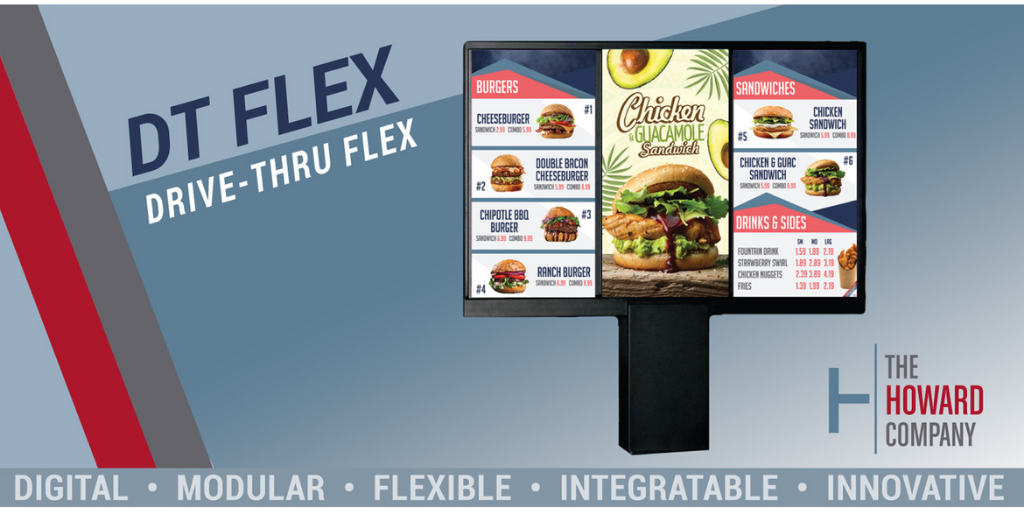 Along with the Drive-Thru Flex Digital Menu Board, The Howard Company offers many outdoor digital opportunities, including the Drive-Thru Flex All-In-One Digital Menu Board Solution, Outdoor Information Screens, and Digital Preview Boards. Learn about creating a digital experience here.
Find out more about how The Howard Company's Drive-Thru Flex Digital Menu Board will increase drive-thru revenue in our 'Digital Menu Board Math Video' below.
Matthew Johnson or any of our drive-thru experts can answer questions you may have at https://www.howardcompany.com/contact/sales.