QL Digital Content Management Software
Our content manager is a complete digital signage solution that includes a robust and reliable content management server, a user-friendly web-based dashboard, and a powerful media player software. There is no server to purchase, install or maintain.
QL server hosting and maintenance is handled by Navori Labs. This is the quickest way to get your digital signage network up and running.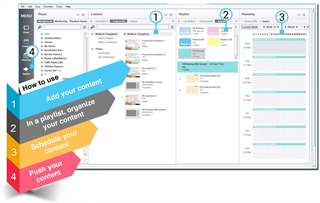 There is a monthly fee for each QL Player license you deploy. This software is perfect for folks who do not have access to a dedicated IT department that can handle the technical side of the system. There is zero maintenance to perform and your content is secure.
The QL Content Manager features a user-friendly dashboard you access via your web browser. There is no local software to install or maintain. Just type in the QL Server address, enter your credentials and you are good to go! Portrait and landscape screen orientation is supported on all platforms.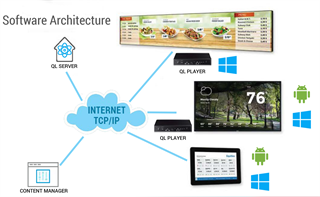 QL Content Manager includes an easy to use template and ticker designer. You create sophisticated layouts including images, videos, animations, web pages, broadcast TV, streaming video, plus live data from social media and external databases. Display product descriptions and pricing from your POS system or store the information in QL server. Edit content and update your displays instantly from anywhere.
QL lets you schedule and deploy content in minutes. Data from external sources update automatically so you can concentrate on your business.
QL monitors every player, 24/7 and can send out email alerts in case of hardware failure or other technical issues. QL Content Manager displays live status indicators right in the dashboard so you always know what is going on.