For Immediate Release:
Aservio Kiosk Complements Howard's Existing Product Line
The Self-Service Kiosk is a Natural Extension of our Brand-Building Capabilities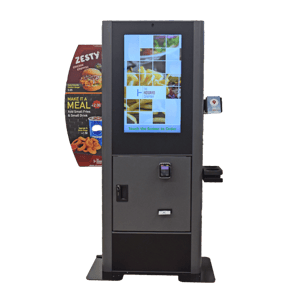 Brookfield, Wisc. (May 14, 2019) – The Howard Company has a storied history of innovation to meet evolving customer demand. The Aservio Kiosk is a fitting addition to our efforts to support our partners with revenue-enhancing merchandising products that improve their customer's experience.
The Aservio is a self-service kiosk that can be used in any retail environment. As with other Howard Company products, it is very versatile. It can be single or double-sided. There is plenty of space for custom-branding, including with a side wing brand booster, on the face and base of the unit, and between raceways above the unit. Integrations are already built for many restaurant POS software systems, with more to come, or it can run independently of a POS. In addition, users may opt to install a cutting edge analytics tool that gives them invaluable insights into customer demographics and behaviors.
"The Aservio Kiosk serves a similar purpose inside the store or restaurant that the drive-thru serves outside," says Doug Watson, President and CEO of The Howard Company. "It opens up new ways for customers to order, giving our partners multiple revenue streams within the same real estate. The Aservio allows them to reallocate labor resources into production, thereby increasing their capacity and reducing cost of labor. It is very exciting to see business models changing before our eyes, and to be able to support our customers in that change."
About The Howard Company, Inc.
Founded in 1950, The Howard Company, Inc. is an employee-owned menu board equipment manufacturer located in Brookfield, WI. We specialize in revenue-enhancing outdoor and indoor brand merchandising for the foodservice industry. With thousands of installations all over the U.S., we are the nation's drive-thru experts for both digital and static configurations. We design, supply, and install the complete system. Inside the restaurant, our professionals can plan an integrated interior package including digital menu boards, illuminated and non-illuminated menu boards, foodservice marketing products, and permanent and semi-permanent POP retail merchandising displays.

Contact:
Jean Jones
1375 North Barker Road
Brookfield, WI 53045
Office: 262‐317‐7809


###