For Immediate Release:
New DT Flex Digital Provides Revolutionary Versatility
The Howard Company Enhances its Drive-Thru Product Line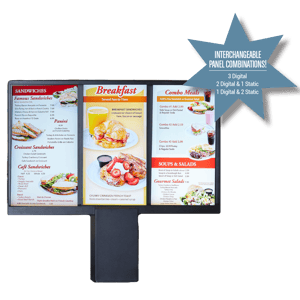 Brookfield, Wisc. (May 6, 2019) – As customer demands for convenience grow in many retail sectors, drive-thru revenue continues to grow both in gross dollars and as a percentage of total revenue. Recognizing the need to provide products that meet the needs of businesses with drive-thrus, The Howard Company has launched an innovation to the drive-thru menu board - the DT Flex Digital.
As with our other menu board products, the DT Flex Digital is a customizable menu board, but the innovation is in this system's modularity. Users can mix and match digital and static panels in the same casing, with 1, 2 and 3 door options. Many businesses understand the necessity of adding digital to their drive-thru menu boards and are searching for a way to get started on smaller budgets. The DT Flex allows them to start with one configuration, perhaps a single digital board with two static boards, while keeping the option to upgrade in the future. Static panels can be modified in the field to accept digital boards, with only minor adjustments.
"Our customers look to us to provide options that give them room to grow. The DT Flex Digital does just that, and it allows them to spread out their expenditure on digital over a period of time, adding more after they have experienced how effective it is," said company President and CEO Doug Watson. "Putting in a drive-thru is an investment, and can be a disruption to an operating business. Nobody wants to do it twice. We have found a way for customers to minimize the future disruption by installing a product that is conducive to on-site upgrades."
About The Howard Company, Inc.
Founded in 1950, The Howard Company, Inc. is an employee-owned menu board equipment manufacturer located in Brookfield, WI. We specialize in revenue-enhancing outdoor and indoor brand merchandising for the foodservice industry. With thousands of installations all over the U.S., we are the nation's drive-thru experts for both digital and static configurations. We design, supply, and install the complete system. Inside the restaurant, our professionals can plan an integrated interior package including digital menu boards, illuminated and non-illuminated menu boards, foodservice marketing products, and permanent and semi-permanent POP retail merchandising displays.

Contact:
Jean Jones
1375 North Barker Road
Brookfield, WI 53045
Office: 262‐317‐7809


###