4 - One more step! Let's GET READY!

You've made many important decisions on your road to incorporating a new menu board in your restaurant! Now that you know your menu content, what the layout might look like, and how much you are able to spend, you need to let the menu board company know how much space you have available to hang your new board. The menu board provider will use all your information to help determine the best system for you and your space.
Where will you be hanging your system? On a soffit above the back wall? Centered above your work area?
If you have chosen a non-illuminated board but want front- lighting, is there electrical wiring that needs to be done in front of the proposed soffit to support lighting?
Will the new boards or light boxes be hung flat against the wall, or will it be better view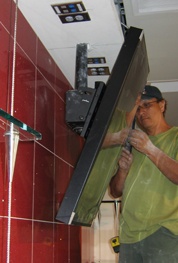 ed if hung at an angle?
What is the ceiling height where the menu panels will be hung? How far away from the ordering counter will the menu system be placed?
Will the customers be able to clearly see the menu listings and pricing?
Answering these questions will help the menu board designers determine the proper font size to use on the text for your menu listings. They can help you find a font which expresses your design best and still be easy to read for your guests.
Do you need a professional installer or can you handle the job yourself? Ask your menu board provider if they offer installation services, and if the product warranty is still in effect if you choose to install it yourself (especially important for the digital display systems).
When you have reached this point in your menu board design, you are ready to leave your hard work in the trusty hands of the menu board company! They will study your plans and menu diagrams and create exciting options for you to choose from. Be sure to give them plenty of time to prepare a great product for you – it will take several weeks (or even months if there are lots of revisions!) before a final design is agreed upon and can be sent into production. Relax - it will be worth the wait!