First, let's start with some simple definitions. Wind load is simply the pressure in pounds per square foot exerted on a structure by the wind. Similarly, snow load is the amount of downward pressure on a structure from the weight of snow or ice.
Why do you have to pay attention to wind and snow load?
Determining how wind and snow load may impact the installation and selection of product(s) is important for safety and permitting. The installation and product should be structurally safe per a combination of the International Building Code (IBC), along with state and local municipal codes. The consequences of not passing permit requirements can be expensive and time-consuming, resulting in missing the planned store opening date. Remaking the foundation, altering a foundation, or switching out a product after installation is also expensive and time-consuming. This article will cover what goes into making permit drawings, who makes them, products/foundations, how standards are created, how existing foundations can be used, how to plan for wall-mounted permit drawings, and how snow and wind loads can be accumulated and impact each other.
The product construction and the mounting method together drive the math in the structural calculations to determine wind and snow load. Before committing to any drive-thru equipment, here are some things you should clarify:
Does your area require stamped engineer drawings?



Outdoor products should have a defined wind load and snow load rating from the manufacturer. However, many building permits require a stamped engineering drawing by a locally licensed structural engineer. Just because a company states that its products are structurally calculated to meet a wind and snow load rating, that does not suffice if engineer-stamped drawings are called for in permitting.
Is the structural engineer certified by the state where the drive-thru is being installed?
Unless the structural engineer is certified in the state, the stamped drawings will be invalid.
How do I make sure I get what I need?
You are going to have to spend a little time researching your local code. The engineer will provide a drawing and calculation documentation meeting state requirements with a certified Engineering stamp. Additional requirements can be added at the local municipality level. Certified Structural Engineers may not know the unique nuances of each municipal code, so it is essential that anything beyond state and IBC requirements be part of the initial request. Failing to do this research at the outset could result in denied permits, additional costs, and construction delays.
How much is this going to cost?
Typically stamped engineering drawings cost $400-$500. There is often an extra charge from the structural engineer to reformat the drawings for local municipalities. This work, along with liability insurance, overhead, and yearly state certifications, is what determines the cost of creating each stamped drawing.
Where do the standards come from?
The International Code Council creates the minimum standards for wind and snow load per geographic region. They release an updated International Building Code document almost every year. Each state adopts the new standards on its own timeline, which is determined by the legislature, government agency, building code board, or building code commission. States also can add their own requirements that are above what the International Building Code has documented. And local municipalities sometimes have requirements above State and IBC codes. Certified Structural Engineers are expected to know current International Building Codes and State Building Codes. The specific municipal nuances need to be part of the request process, as it is unlikely a certified structural engineer will be privy to those details for every municipality in their state.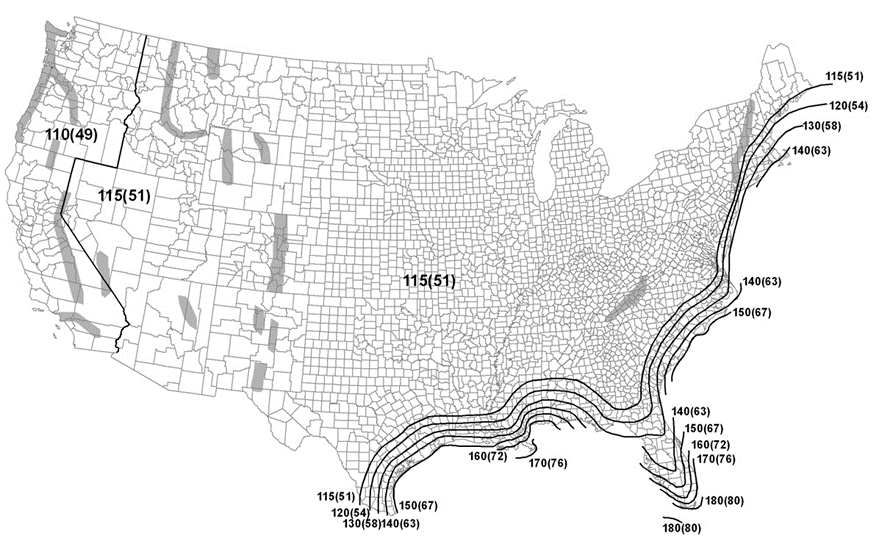 Replacing an existing structure
Although often seen as a cost savings, replacing an existing menu board is a bit more complicated than one might expect. International Building Codes change over time. A foundation from 15 years ago might not be suitable today, whether installing the same or a different product. We highly recommend purchasing a stamped drawing in these situations. The structural engineer will evaluate current foundation information and proposed product specifications to determine if the existing foundation meets current state and IBC codes. There are three possible outcomes:
The foundation is approved as is.

The Foundation will need the anchor bolts cut off and new anchor bolts with epoxy used. The structural engineer will call out what epoxy and anchor bolts to use on the existing foundation on the drawing.

The old foundation must be removed and a new one put in.
Wall-mounted menu boards
Installing a menu on an exterior wall has many variables, including building material, building structure, product, International Building Codes, and State Codes. We highly recommend purchasing a stamped drawing in these situations. The structural engineer needs product and building drawings with material information and dimensions to determine if there is a mounting method that meets the current state and IBC codes. Again, there are three possible outcomes:
The engineer will determine if the mounting wall is suitable as is and provide a drawing with the hardware to mount it.

The engineer will suggest what needs to be added to the wall for the structure required to support the product and will provide a drawing with hardware to use.

The engineer will create a suitable foundation in front of the wall for the product to be pedestal mounted.



Final considerations
In some areas of the country wind load and snow load are looked at together, meaning an increase in snow load will decrease the overall wind load because of the extra force on the product. Coastal areas in the warmer/southern parts of the United States have the highest wind load areas. The coldest part of the country that receives snow has fewer wind load events. Although both snow and wind can be accumulated, it is unusual because these conditions rarely overlap. See below map illustrations of the US Snow Load requirements and US Wind Load requirements. Most states only require wind load ratings. Because of minimal snowfall in large swaths of the country, snow load requirements are less likely to be part of the permitting process.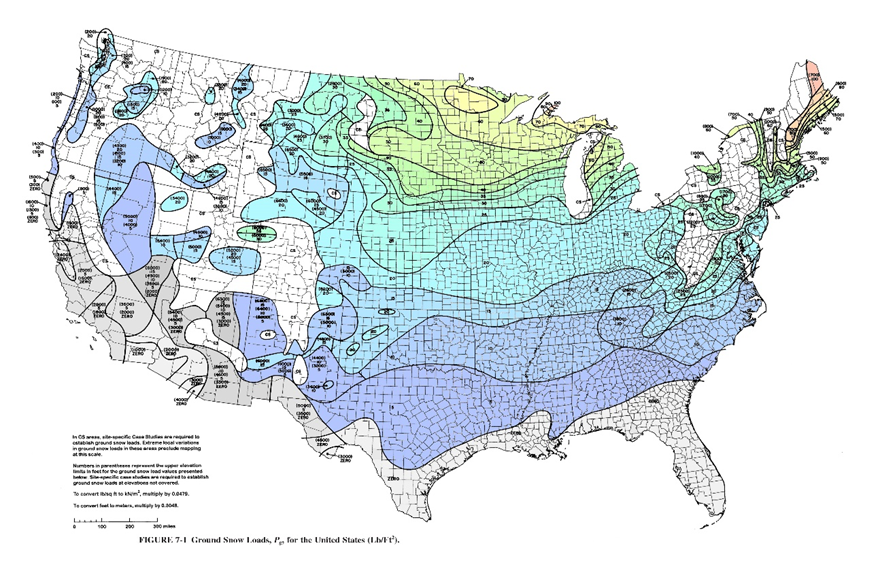 As you have read, there are many variables that impact safety and permitting requirements. With the proper planning, cost and timing can be managed to ensure a successful store opening within budget.