With digital menu board displays expanding to both indoor and drive-thru applications, convenience stores now have great flexibility to promote their expanding food service options in their C-stores. The ability to schedule a changing menu display that features breakfast, lunch and food-to-go dinner meals throughout the day is a solution sure to make store managers smile.
This is why:
1.
Flexibility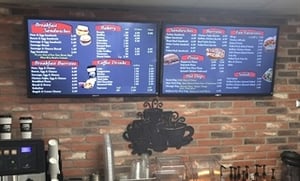 The Howard Company's digital menu boards offer single store operators indoor digital package solutions of one or two digital screens, while large chain c-stores that need multiple screens installed nationwide can count on The Howard Company to fulfill their needs. With content creation software included in each package, The Howard Digital Solution solves the requirement to day-part menu display choices ranging from breakfast items in the morning to grab 'n go dinner selections. Maybe you want to promote your lottery sales, or you have a special beer promotion for the holidays - digital menu boards make LTOs easy without the printing costs associated with short-term use. The digital programming resides in the player with content creation accessible via the cloud network.
2. Inside or outside
Additionally, with drive-thru lane ordering becoming a profitable growth segment for convenience store business, drive-thru digital menu boards offer the chance to expand food service and snack counter items to guests who are in a hurry. The Howard Company "All-in-One" canopy, order confirmation and menu board one piece system solves space constraints; updating content is easy using the same software as the indoor digital menu system.
3. Look for an alpha and omega source
The Howard Company's digital menu board solutions help you plan your digital installation from site planning to full installation. The software program and training is included; our design department can help you with content creation. Technical support and after-the-sale services plus product warranty makes the transition from static menu boards to digital screens easy enough for any operator.
4. Look for product quality with a warranty to back it up
Our inside and exterior menu boards are built to withstand hurricane winds up to 120 mph. The last thing your brand can't afford is a broken menu board. Our menu board brand has been around for 30+ years and with our warranty, we also put our money where our mouth is.
"Digital menu systems are the best way to advertise and promote your new food service sections of your store," advises Doug Watson, The Howard Company president and CEO. "Our digital menu board solutions for indoor and drive-thru applications give you additional tools to increase your net sales."