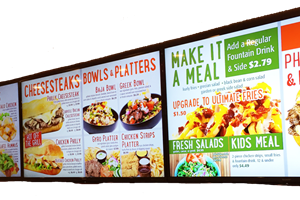 Two things become abundantly clear every year during the National Restaurant Association Show. First, the restaurant industry is alive and well. Second, there are hundreds of companies wanting a piece of the growing pie. After sifting through the swag and flyers and follow-up emails, it is time to sort out the products that will work for your business. You will probably go back home and reach out to your foodservice company to help sift through the many new food and equipment ideas you have, but can they guide you in making menu board and drive-thru system decisions? It may make sense to piece together solutions using multiple suppliers for chemicals, dry goods and produce, but should you do the same for employing your menu boards and drive-thru? Here are a few things to think about before you make that first phone call.
Simplify Your Life With One Supplier
A lot goes in to setting up digital menu displays, static menu boards and drive-thru equipment. All assets need to reflect your brand, which means layouts, colors, fonts, images and text must be coordinated across all platforms. You could work with several different companies to pull this off - the marketing firm, a sign company, a print shop, a digital provider, a drive-thru manufacturer and multiple installation companies. Do you have time to juggle communicating with all of these companies? Certainly there are time efficiencies by using a single source provider, but there will be financial efficiencies as well.
Perception is Reality
The digital sign company designing your digital displays may not take care that the fonts or colors they use match with the static menu boards printed by another company. The company manufacturing your drive-thru menu boards will not likely know the menu descriptions you use on your interior digital menus. These subtle inconsistencies relay a message to your customers: you don't quite have it all together. Details and managing your brand are very important in creating a positive first impression and keeping it.
Rely on the Experts
The marketing firm is great at design. You need to ask yourself whether they know how to design content that drives sales of your most profitable menu items. The digital company has the best content management software, but how easy is it to update displays and will you be able to easily change the same content in various different places and applications? The drive-thru sign company has installed a few drive-thru boards in your area and they say they know what they are doing, but do they also provide drive-thru clearance bars, communication systems, canopies and all the other drive-thru components? Do they help you with the most appropriate design for your location and post-installation support?
Boil it all down to one simple question: do you want to be a project manager or do you want to run your restaurant? The solution is to find a provider that can do all of the above, and do it well. If you are interested in a new menu board, digital menu boards or drive-thru equipment, give The Howard Company a call.