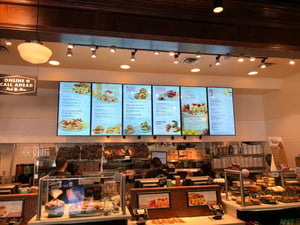 For over sixty years The Howard Company has been a significant resource in the menu board business. We are often asked why we see digital menu boards and digital signage as the future technology for our national brands to use in their QSR (Quick Service Restaurant) or Fast Casual Restaurants. Here are eight points of discussion we offer to our business partners who are considering the switch from static menu boards to the new digital technology.
1. What advancements are new and exciting in digital signage?
With the advancement of outdoor digital menu boards, many restaurants can now operate the same content format inside and outside, eliminating the need to support two different marketing and fulfillment platforms.
2. Why is digital signage so important?
The enormous millennial generation expects to see continually changing, interactive digital content. With a quality content management program, changes are quick and easy and can be planned. For multi-unit businesses, accuracy and control at the brand level are critical. All can be controlled remotely or at the local level. Even smaller operations gain by allowing owners and managers to update content from anywhere.

3. Why should restaurants consider investing in digital signage over static signage? What are the benefits?
Digital signage installations reduce perceived wait times because they entertain, enhancing the customer experience. Digital menu boards can integrate with existing restaurant technologies like the POS and inventory management software.
Mixing in some value-added content such as trivia, fun facts, or other entertainment helps to lower a customer's perceived wait time. It also gives customers a reason to continue to look at a screen providing restaurants another chance to slip in promotional or other branded content. Overall, customers are given something to do while they either wait or eat. Offering them something to interact with will always enhance the customer experience.
Additional benefits:
Eliminate Ongoing Printing & Shipping Costs
Static menu boards require restaurants to design, print, ship and then install their materials. A digital menu board eliminates those costs. Once a digital menu board has been designed and installed, maintaining it is as simple as uploading a photo to an online portal.
Staff training and other company communication
The digital displays can be used for internal needs, as well. Restaurants may use their digital menu board to communicate with staff either for training or other important news. Pre-recorded training videos can be scheduled to play across all locations at a set time.
Engaging within the community goes a long way in maintaining customer loyalty. And digital signage allows restaurants to give back! Displaying local news, events, and feel-good stories on their menu boards or other digital screens is an easy way to show the community how much the local support is appreciated by the owners, managers, and staff.
There is always a risk of employees forgetting or neglecting to change a static poster menu board. With digital menu boards, restaurants can ensure all their locations are up to date and sending consistent branding messages across the board.
4. Where is digital signage technology heading in the future?
Interactive digital signage is on the next horizon, whether by recognition or beacon/NFC technology, digital signage can market to different people in different ways. The future will bring much more personal experience to the menu ordering process, with the ability to tailor messages and marketing materials to individual guests. This will even become more prevalent in the outdoor ordering experience where the entire menu board can be personalized based on past order history and loyalty/reward program participation.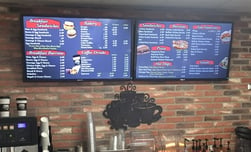 5. What are common misconceptions that restaurant leaders have about digital signage?
Cost is frequently the biggest concern, but signage technology is getting better, and the price tag is staying the same or decreasing. QSRs now more than ever need a marketing resource that can oversee their whole program and brand message. Opportunity cost should also be factored into the decision. How much revenue is being missed by not employing dynamic messaging on the menu boards?
Mistakenly, most clients start with hardware and then work backward, looking at software, planning installation, and so forth. Experience has proven this to be entirely backward. Time must be spent upfront on the objective, methodology, and strategy of incorporating digital signage into the restaurant, then working towards a software program and a process to support the objectives. Only after those steps should the consumer look at hardware options to make it happen. This process cannot be emphasized enough to have a successful digital menu program and not just a few monitors hanging on the wall.
When reviewing the cost of implementing a digital menu board, the operator should make sure the equipment is commercial-grade, installed by professionals, and not piecemeal-ed together with an off-the-shelf software program. The result will be a disillusioned operator perceiving digital menus are not for them because the equipment does not last or operate as expected.
Lastly, it is important to work with a vendor who can do it all, not one who only manufactures or sells one of the elements you may need. Your resource ought to be able to build a solution that is right for you, putting together all the pieces of the puzzle to create a system that meets your expectations.
6. Why is now the right time to invest in digital signage?
The early adopters have already tried it, tested it, and found digital signage makes a difference in their restaurants or retail outlets. Today's shoppers can use what they have learned to build a quality system that meets their needs.
7. What advice do you have for restaurants on choosing digital signage?
Research, Research, Research. Many of our clients have tried working with different companies for different pieces of the package, and others have attempted to handle it themselves before turning to us for a real turnkey digital solution.
8. What else should we know?
Digital signage should be an integral part of marketing plans and initiatives. To implement digital, you still need a strategy and brand behind it. Your brand and strategy drive the content, changeability, hardware, software, and guest interaction when using a digital display. Remember, the signage is a vehicle for information delivery!
SUMMARY
Our objective is to guide our business partners through the maze of digital products. Using a consultative approach, we find solutions that meet the unique needs of each of our partners. If you are confused by trying to dig through all the information found on your internet searches, we encourage you to talk to a menu board professional who will help you determine what works best for you and your restaurant!
This post was constructed in May 2019. It has been revised as of February 2023.
This article was originally published on June 27, 2017. It has been updated for comprehensiveness.