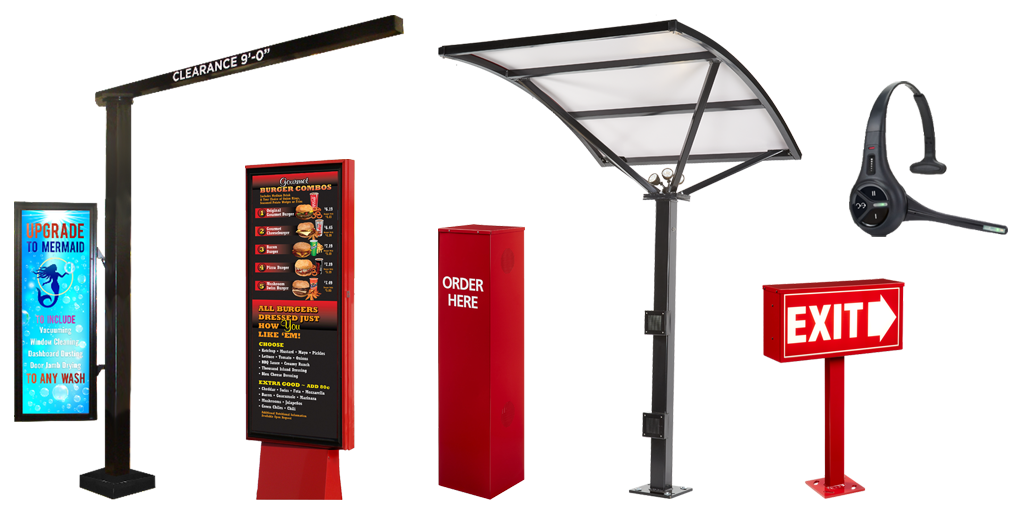 Standing out from the crowded restaurant field often boils down to the smallest of details, not just about the food you offer, but also the customer experience.
When your customers choose the drive-thru, convenience is potentially the main reason. Restaurant operators should be aware that every detail is critical. Missing the mark can mean the customer will drive right past your business to the competitor next door. Adding a few elements to the drive-thru can make a big difference in the success of this vital asset.
People need to know how to get to your drive-thru lane. Directional signs accomplish that. But they do more - they can set the tone for the entire drive-thru experience. They also welcome patrons and give you a bit of real estate for branding. Use the directional sign to start the patrons' engagements on a positive note.
Consider this scenario: the restaurant has a 5-panel drive-thru menu board, meaning there are numerous menu items. In the car, the family of 5 has two who know just what they want and three who aren't sure. The driver pulls up to the menu board and immediately gets prompted with "Hello, welcome to ABC Burgers. How may I help you?". Meanwhile, the kids in the back seat are straining to see the menu board and several people are talking all at once, telling the driver what they want. Trying to sort it all out the driver directs each person to give their order one-at-a-time, repeating it into the speaker box. The line behind them grows, and the cars in front have already pulled away. The driver is getting impatient, hasn't had a chance to figure out what they want yet, and finally decides that everybody will have small cheeseburgers and fries.
If everyone in the car had an opportunity to see the menu in advance, this situation may have gone a lot smoother, potentially resulting in a higher sale. For example, one person would have been able to get the triple deluxe bacon burger, and the others could have gotten a milkshake or large fries. Instead, under the perceived pressure to order quickly, and the confusion of the moment, the driver opted for the easier route, and you lost out.
Give guests waiting in line plenty of time to use your menu, by implementing drive-thru presell boards. It takes the pressure off them when it is their turn to order, and it allows you to up-sell, including enticing people to try your limited time offers (LTOs). Well-designed menu boards will draw the eye to the highest margin items - those items that contribute the most to your bottom line. If people feel rushed, they tend to fall back to their go-to meals. Additionally, bottlenecks at the point of order reduce the number of cars you can move through your drive-thru during the busiest dayparts.
Customers get quite frustrated when they open their order and find that it is incorrect. It is worse when the mistake happens following a challenging back-and-forth conversation over bad speakers where neither person is sure what the other one is saying. If the key to successful relationships is communication, the same can also be said about successful drive-thru systems.
Consider several factors to ensure successful communication. First, the system should be checked regularly, from both sides. Management should test the audio quality of the drive-thru speaker post with their team speaking to them as they would a guest. Properly train team members how to use headsets correctly, where to position the mic, how loud to talk, and how to speak clearly with excellent diction. Finally, mere awareness of possible impediments to good communication should always be top of mind. For example, patrons may have hearing problems, or there may be excessive noise from traffic or weather.
Having the highest quality communication system could be the difference between a good experience in your drive-thru or a very poor one, which leads to a lost customer.
Order Confirmation Systems
The above scenario gives a hint as to why an order confirmation system is necessary. By displaying what was ordered, the customer has the assurance that everything was correctly entered. You have the confidence that you will be serving the right meals. If a patron discovers after driving away that the plain cheeseburger they wanted included ketchup and mustard, they probably won't speak very highly of your service. With social media so close at hand, making online complaints is easier than ever. Even if the patron checks their bag before they leave the parking lot, they will be annoyed at having to park and asking to get their order fixed, with their perception of convenience just went out the window.
On the operator's side of the transaction, food waste is a significant expense for most restaurants. Having to re-do meals that were done wrong due to poor communication is an easily-reduced expense. This simple addition of an order confirmation system will avert a lot of frustration on both ends of the transaction.
Once again, the above scenario hints at why canopies are a great addition to drive-thru systems. A well-designed drive-thru canopy offers a more comfortable experience for guests. It shields the customer from the elements, as not many people like to open their car windows when it is pouring rain or when it becomes difficult to see the menu due to glares from the sun. Depending on where the menu boards are placed, there may be times of the day or of the year when the sun could make them very difficult to read. Having a canopy will help, and would establish influence on a prospective patron's decision on what place to choose, especially if the restaurant next door does not have one.
Drive-thru clearance bars serve two primary purposes. First, they are a simple courtesy to your customers. People get pretty upset when they "ding" their cars or trucks. Getting a ding at your place of business will not only irritate them, but it may also cost you money to fix their paint. Second, they protect your investment. If you have an overhang or an awning at your pick-up window, impact from a vehicle will damage them, and may cause structural damage to your building. Navigating narrow drive-thru lanes can be tricky, but installing clearance bars guarantees the protection of your drive-thru equipment.
Every inch of space is used on the drive-thru menu board, but that doesn't mean there aren't opportunities to expand the usable messaging area. Brand booster side-wings and toppers are inexpensive additions to your existing hardware. Use them for LTO's or to draw more attention to things you most want to sell - your highest margin items. Quickly and easily expand the usable surface area of your menu board without breaking the bank.
---
When designing the interior of your business, you put a good deal of thought into the customer experience. Give similar attention to the customer experience for drive-thru patrons. Adding these components to the drive-thru will improve the customer experience, protect your assets, allow for reliable communication and therefore easier transactions, and facilitate higher sales volume. Speak to the drive-thru experts at The Howard Company to learn about how you can improve your drive-thru with these and other enhancements.
This post was originally published in October 2018. It was revised as of February 2023.