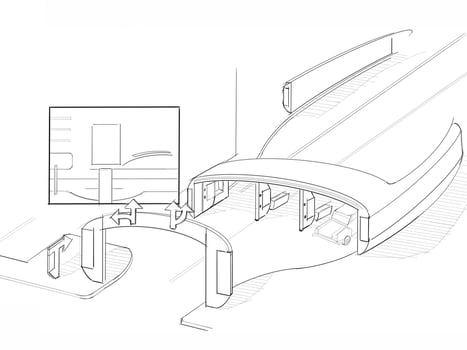 An intriguing public relations trend that many major restaurant chains have jumped on in the last few months is publishing images of their "drive-thru of the future." The renderings are sometimes flashy and futuristic, and the headlines tell the tale of 2020. But there is a lot more going on than what is indicated by the headlines.
Here are some of the words and phrases taken from the press releases:
Post-covid

Restaurant of the Future

Express

Digital-Only

Off-Premise Convenience

Drive-thru Only

Cruise-thru Lane
There is no doubt that forced shut-downs of dining rooms caused significant disruption to the restaurant industry. Drive-thru, curbside pickup, and delivery became the life-lines, even for companies that had never utilized these channels before. The restaurant business has been thrust into a whole new way of operating. Just brick and mortar retailers were compelled to adapt to online shopping, so restaurants must view themselves as e-commerce operations.
So back to those headlines. What do they really mean?
Efficiency for Multiple Channels
The entire site design might have to change. With a decrease in sit-down dining, the interior spaces might shrink. The exterior area has to accommodate different ways guests will get their food. People who order ahead on the web or mobile apps expect to get their food with little or no wait. Drive-thru guests know there will be some wait time, but they also expect speed. Delivery aggregators want to get in and out so they can make as many deliveries as possible. Choreographing all of these cars moving through the lot while also keeping in mind that there may be people wandering about - either delivering food to vehicles or entering the restaurant - will be a unique challenge for every restaurant site. These considerations are visible in the designs we have seen from brands like Burger King, which has the drive-thru lane running below the dining room to maximize space use.
Technology has to Work!
Restaurant operators increasingly realize that they have to think of their business in terms of e-commerce. As with any business, the tech stack can get pretty complicated. Online and web ordering, POS data, and loyalty programs provide invaluable insights into consumer behavior. However, the information has to be synchronized, so it can be understood and doesn't overwhelm.
Digital drive-thru menu boards for restaurants are now quite common, and the technology allows for more than merely displaying products. At the very least, they enable messages tailored to a daypart. Beyond that, they open the door for curated experiences by integrating the menu with loyalty programs tied to branded apps and using geofencing.
Savvy operators will use their technology to work on revenue growth unceasingly and across the guests' buying preferences spectrum. Apps with loyalty programs are proven to increase repeat visits from existing customers, and when programmed correctly, they will always upsell, increasing check averages. These tools enable the explosion of off-premise selling, allowing guests to complete their purchase before (or without) setting foot on your site.
As restaurant operators join the e-commerce revolution, they will continue to find innovative ways to improve the guest experience while growing the bottom line. Taco Bell's prototype is a nod to maximizing the benefit of their app.
Invest in the Appearance
Press releases are a vehicle to draw attention, and the images put forth by brands for their "restaurant of the future" fit the bill. The thought behind the beautiful pictures is what is intriguing. In by-gone times, restaurant companies invested a lot in the interior space. With footprints shrinking and guests moving toward a preference for minimal contact, the exterior space has to do all the brand-building work.
The drive-thru lane and curbside pickup areas have to communicate a strong brand story. The most important message right now is, "we are clean, and we care about your safety." When guests are convinced of this, with good lighting, well-designed traffic flow, and excellent service, the opportunity to turn a one-time visitor into a regular becomes effortless.
Everything about the operation has to appeal to how the guest prefers to transact business, as indicated above. Do they prefer a completely touchless experience? Do they enjoy interactions with the team? Do they want to order ahead and pick it up from a food locker? Since mobile and off-premise technology has advanced so quickly and requires a single investment to impact potentially thousands of locations, the on-premise design will have to keep up. It may take a little more time for existing sites and be a definite innovation for new builds.
Are you building your drive-thru of the future?
Although the designs are new, some things will never change. The most successful restaurants give their guests delicious food and efficient service. If you are ready to put together your new restaurant design with a high-performing drive-thru, curbside pickup, and dine-in channels, we are here to listen.